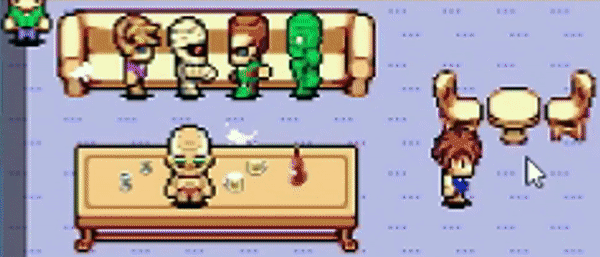 Kool Rat's Krazy Copy Protection™
A downloadable game for Windows
Please do not download this game. I literally do not give a single shit about what I put in it. It contains incredibly crass and insensitive humor and it'll only get worse with each update. Please value your integrity.
THE WORLD'S TOUGHEST COPY PROTECTION
Your mom bought you a shitty licensed game from your favorite pizza and arcade chain, Kool Rat's™. But before you can play it, you must get through its copy protection. This copy protection isn't meant to prevent pirates from playing the game, however- its purpose is to deem whether or not the player is worthy of playing this glorious shovelware game licensed by a shitty Chuck E Cheese knockoff from like, the Tampa area or something I don't fucking know.

The copy protection itself is an entire game that you must beat. Collect all of the COPY PROTECTION GEMS from various MOJO MASTERS around the world on your grand adventure for truth and justice. Unlock GREAT EJACULATORY SPIRIT deep within heart. Crush your enemies and replace them as the prominent father figure in their families. The .rar file includes a free bonus comic, very official looking documentation and a voucher for one free Kool Rat™ mug! Wow!
I'm open to ideas from anyone. Feel free to shoot me a message on Twitter or something. Anyways to everyone who hasn't blacklisted the rpgmaker tag from their search results yet for some reason, enjoy the game and let me know if you find any bugs. Expect updates whenever.

Download
Click download now to get access to the following files:
Kool Rat's Krazy Copy Protection 0.2.3
531 MB
Comments
Log in with itch.io to leave a comment.
Haha thanks for letting me know about the bug, man. I'll release a patch for it tomorrow.